Project Overview
Background
The ReRUN Shoe Project started in June of 2016 at a local road race in Kingston, Ontario. The idea of giving shoes another life sparked from a personal donation that was made earlier in the year to a local youth-sport organization that gives underprivileged youth the opportunity to participate in sport. The realization of just how many shoes one runner can accumulate over such a short period of time was incredible, but more importantly, it was realizing the impact a pair of shoes can have on a child. With no organization alike to donate shoes at the local level, and on a regular basis, we decided to start The ReRUN Shoe Project. This project is about collecting lightly used shoes that are no longer fit for running, but still have plenty of life left in them. In reducing the amount of unused shoes a runner has, and reusing them by donating to local organizations, we have created ReRUN, where we "give shoes another life to improve the lives of others".
About Us
Co-Founders, Lead Organizers, and Running (Shoe) Enthusiasts…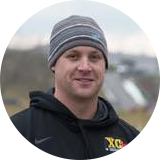 Kurtis is a Registered Massage Therapist at Health in Focus in Kingston, Ontario. His passion for sport and an active lifestyle has guided his practice to be built around supporting the local Kingston sports community, and specifically the running community. This interest in helping local runners and athletes, combined with his involvement and experiences in the running scene as a recreational distance runner, have helped shape the vision of this organization. As a father of four young children, Kurtis understands and sees first hand the difference living an active lifestyle and being involved in sport can make for kids. Unfortunately, there are many children missing out on the opportunity to participate in physical education in schools, or join their friends in organized sport because they do not have the appropriate footwear. Kurtis is determined to help make that change. He is driven to make sure that access to shoes is no longer a barrier to sport participation for local youth. The ReRUN Shoe Project is the first step to achieving this. It's a project that is simple in theory, but life changing in practice.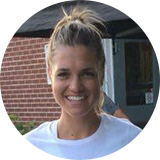 Julie-Anne is a MSc student at Queen's University, studying sport psychology. With a passion for high performance sport and understanding coach practices, Julie-Anne's research is grounded in her experiences as a competitive distance runner. Julie-Anne has competed at the varsity level for five years, representing Queen's nationally and internationally, becoming the first student-athlete at Queen's to be a 5-Time All-Canadian. Sponsored by New Balance Canada, Julie-Anne is chasing her athletic dreams alongside her academic endeavours, as she hopes to make future national teams, and one day, represent Canada on the world stage. With an abundance of shoes from miles of training, Julie-Anne is passionate about giving back and sharing her love of the sport. In volunteering with the Boys and Girls Club of Kingston and helping organize the Just Girlz Running Club, this first-hand experience with youth is what made this project her mission. Julie-Anne believes there should be no barriers to sport participation, and providing proper footwear is one step in making that change. Therefore, ReRUN is more than just an organization for collecting shoes, it is about giving back and making a difference in a child's life—for the long run.